Aaloo Mattar ( Indian-Style Peas and Potatoes)
Sana7149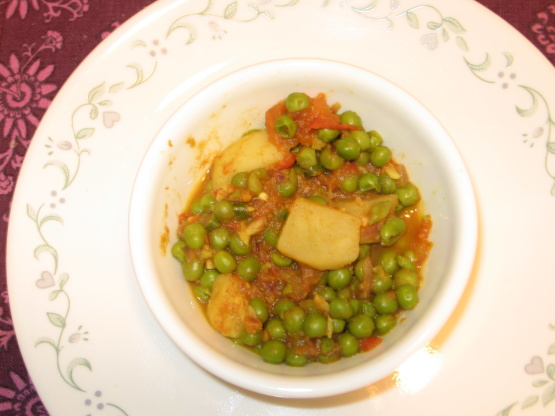 This is a very simple recipe. I still thought about posting this because, the base of this recipe ( point where you add peas and potatoes)can be used to cook almost any vegetable curry - potatoes, spinach, cauliflower, capsicum , mushrooms etc. Another variation of this recipe is to use tomato puree instead of chopped tomatoes

This was my first attempt at homemade Indian, and I was very pleased with the results. I used tomato puree and added a sliced carrot. To save time, I steamed the potatoes, peas and carrots in the microwave while I prepared the rest of the ingredients. I also used just one small green chili pepper. Served with raita (#120649), flatbread, and mango chutney. I can hardly wait to eat the leftovers!
Heat the oil in a pan.
Add the ginger,garlic, onions, chillies and tomatoes.
Saute till the tomatoes and onions are softened.
Add the turmeric powder, coriander powder, cumin powder and garam masala.
Add salt to taste.
Add the boiled peas and potatoes.
Add the chopped cilantro.
Add the water and bring to a simmer.
Serve with Indian Bread or Rice.
Tip: I microwave frozen peas and potatoes for about 10 minutes in my microwave.