Prep 1 hr 25 mins
Cook 0 mins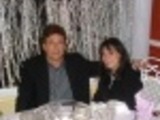 I found this clipping that my mother had saved and am posting it here for safekeeping.
Directions
Combine steak sauce, oil, pepper, and garlic. Place steak in plastic bag; add marinade, turning to coat. Close bag securely and marinate in refrigerator for at least 1 hour, turning once. Remove steak from marinade; place on rack in broiler pan so surface of meat is 3-4 inches from heat source. Broil 15-18 minutes to desired doneness (rare to medium-rate), turning once.
Reviews
Most Helpful
This is so delicious!...The steak came out so moist and tender...I cooked mine on the cast iron grill pan...yummy...hubby loved the flavor...thanks for posting it! =)

Wow, this one really delivers on the flavor! It made our t-bones big, bold and beautiful. It's super simple and this marinade would be perfect on the BBQ. I did ours in a pan as we are past grilling season and the steak was still moist and delicious.