jenne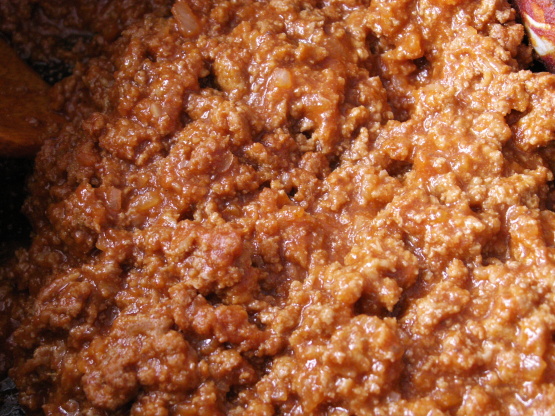 I haven't had an A&W chili dog for years, but from what I can remember, this tastes just like it. This is listed as one serving, but the sauce makes enough for about 10 servings unless you use more on your dog like I do. The sauce can be frozen for future use.

We have an A&W rootbeer stand not far from us and these chili dogs tasted very close to what we remember. I used a package of ground round that was about 1 1/2 pounds so I added another 1/3 cup of water. Covered and let simmer for the 30 minutes and it was perfect. We just topped our dogs with the sauce and enjoyed them a lot. Cant wait for lunch tomorrow! Served with aHardDaysNight's Recipe #304182 #304182 and had an indoor picnic for supper. Thank you lazyme for posting this recipe. Made and reviewed for the cookathon.
Cook the ground chuck in a pan and break into small pieces.
Season with salt and pepper.
Add in the remaining ingredients.
Simmer for about 30 minutes until thickened.
Boil some water in a pot, and add in however many frankfurters you want.
Boil for about 8 to 10 minutes.
Place the frankfurter in a hot dog bun and spread on 3 tablespoons of the.
sauce you just made.
Spread the cheddar cheese on top, and you're done!