Linky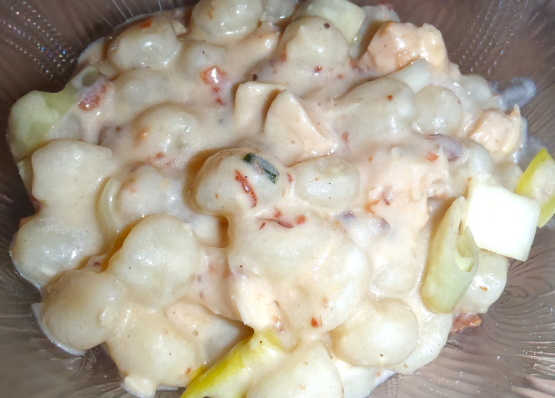 This is so comforting & delicious! I forget where I found this originally & I probably altered it anyway. eta: I just remembered - this is my edited/altered/revised version of another Zaar recipe. I hope nobody is offended.

Made for Recipe Swap #12, January 2008. I have never had Gnocchi before, but had always wanted to try it. I'm glad I made this recipe for my first try at gnocchi. I loved the spinach, bacon and chickn in this dish. I added some minced garlic and some red pepper flakes and ended up with a very enjoyable meal. Thanks, Elmotoo.
Cook gnocchi according to package directions. Set aside.
Sauté bacon until crisp. Set aside.
Sauté leeks in bacon fat.
In medium saucepan, melt butter. Over medium heat, whisk in flour. Whisk in milk, stirring constantly until boiling. Add cheeses & stir until melted.
In large bowl, combine all components & stir well, adding spinach last.