A Very Simple Berry Sauce
Derf2440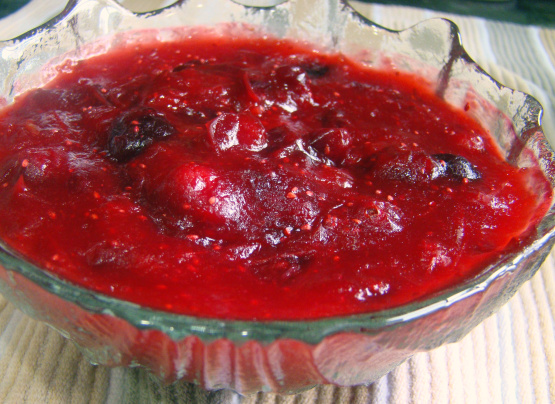 This method is quick, easy and versatile. Use any berries you like.

This is an excellent, almost fool proof sauce. I have used the recipe many times, most recently this morning. I made the children pancake muffins and made a blueberry sauce to go over it. I doubled the amount of blueberries so there would be enough for all of us. I can't stand splenda and instead I just put in a couple of spoonfuls of the sugar we used. I also used potato starch instead of corn. I've made this enough that I just eyeballed it and put a spoonful of starch into the water to dissolve. It came out beautiful, and thick, and very flavorful. Due to my sons diet restrictions, we eat very little sugar. There was just enough in the berries to bring out the berry flavor. The kids said the sauce looked just like the sauce they saw grandma use out of a can last weekend but this tasted better. :) The only hint I really have is to be careful of doubling it when it comes to your starch. You CAN add too much and then you get a super thick glop so just add the original amount first and if it needs more add a little at a time until you get the thickness you like. If you do make it too thick, just slowly stir in a little water or orange juice to thin it back to required consistency.
Put the blueberries in a pot over low to medium heat, do not add water, there will be enough liquid from the thawing of the berries. We like our sauce quite tart, if you like it sweeter, add more Splenda or sugar. Stir the Splenda into the berries, cook stirring until the berries are thawed and the Splenda dissolved; about 5 minutes.
Whisk together the cold water and the cornstarch until smooth, add mixture to the berries and simmer and stir until thickened, about 5 minutes. Try to keep most of the berries whole as much as possible. The recipe can be doubled or more.
Use as a topping for anything you wish and enjoy!