A Very Good Tagine/Tajine (Vegetarian)
Annacia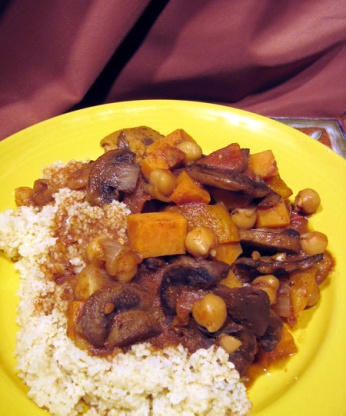 This healthy Moroccan tagine is delicious, with chickpeas, sweet potatoes and apricots. Even though I cook for two I make the full amount because, as with many such dishes, the leftovers are scrummy the next day. Originated with WW, developed by me ;) Spices are dried and ground, as tis winter - add more/less of them as pleases you.

Absolutly wonderful flavor and so easy to make. Do use the full amount of the spices as they are what makes this recipe exceptional. I went a little heavy on the mushrooms because I love them and served it with couscous. I wouldn't change a single thing about this tagine but I should say that I ended up using about 3 cups of extra water (after adding the stock) through out the cooking time to keep it from going dry.
Chop the onions, mushrooms, cherry tomatoes, apricots, and dice the sweet potato into small pieces.
Spray a pan with spray oil, fry the mushrooms and onions for a few minutes on a high heat.
Add everything else, then reduce heat and simmer for at least 1hr (longer if you've got the time, it gets better!).