gailanng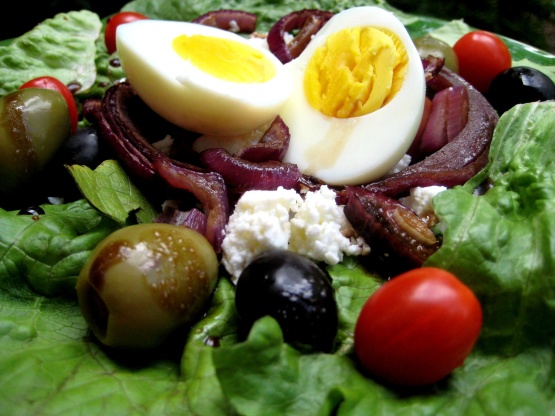 A really yummy combination of simple ingredients, and you can ask my husband if you don't believe me! He fancies himself a salad connoisseur and he loved it! I have developed a passion for roasted red onions, and put this salad together last night. It's plain and flavourful. It is an ideal starter when the cook worries that the main meal might be too light, as it contains some filling ingredients. It would be an ideal lunch with bread on the side. Boil the eggs and roast the red onions an hour or half a day ahead -- whenever you have time -- before putting the simple salad together. Cooking time given is for roasting the onions and at the same time boiling the eggs.

a lovely easy salad, lots of contrasts, in color and flavors!
Heat oven to 350 deg F/180 deg Celsius.
Whisk the olive oil, balsamic vinegar and sugar in a bowl.
Peel the onions, then cut lengthwise into generous slivers. It does not matter if the wedges fall apart, just don't cut them too thin. Put in an ovenproof dish.
Using a teaspoon, drip the oil-vinegar-sugar mixture over the sliced red onions, and sprinkle with the salt.
Bake in the preheated oven for 45 minutes: the onions should be softened but not shrivelled, lightly roasted and still juicy.
In the meantime, boil the eggs, not more than 10 minutes.
When the onions and eggs are done, let cool to room temperature. Leave onions in their oven dish while they cool.
To put together: tear up the lettuce (I used the type called "Frilly Lettuce" here) to make a thick bed.
Chop the tomatoes neatly into smallish cubes, and put on top of the lettuce.
Peel the eggs, cut in half, chop roughly into bite-sized pieces, and scatter over the salad.
Drain and dry the feta if in brine, and crumble over the salad.
Chop the olives and add.
Arrange the roast onions on top, using all the bits. If there is any liquid left in the oven dish, scrape over the salad -- it's full of flavour.
It's best that each person sprinkle vinaigrette dressing over when the salad is served, unless you want to toss it with the dressing yourself and mix all the ingredients. Also serve with flaky salt (I use Maldon salt) for those who want it.
(I make my own vinaigrette, with apple cider vinegar. I find my own vinaigrette is "softer" on the palate and not as acidic as those we buy).