flower7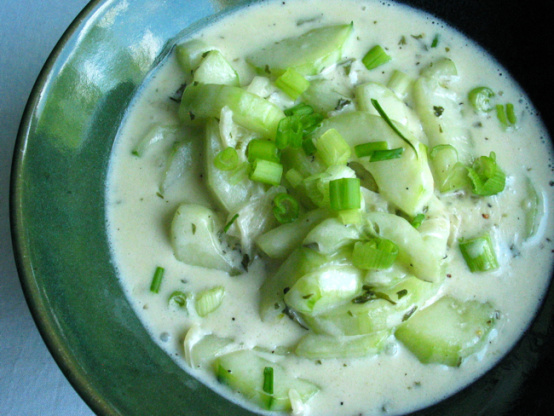 Posting for ZWT6 Great Britain region. Adapted from recipehound.com.

This is very different from anything I've made previously - I've never cooked cucumbers before. I used two small shallots and did not have any fresh parsley so added 1 tsp dried at the same time as the S&P. As suggested by the previous reviewer, I only used 1/2 cup cream and found it was plenty. I think I prefer this at room temperature or at least cooled quite a bit vs. hot out of the skillet. Thanks for a new experience!
~Made in Memory of Papa D.
Peel the cucumber, cut it in half lengthwise and remove the seeds and pulp with a teaspoon. Cut each half into 1/4-inch slices.
Melt the butter in a fairly wide-based pan. Add the onion and garlic and cook, for a few minutes, until tender. Add the cucumber slices, cover and toss frequently over a low heat for about 3 minutes. Add the cream and season lightly with salt and pepper. Cook for a few minutes longer, but take care not to over-cook the cucumbers, which should still be crisp when served.
Add the freshly chopped herbs just before serving.