A Really Good Tomato Recipe
lazyme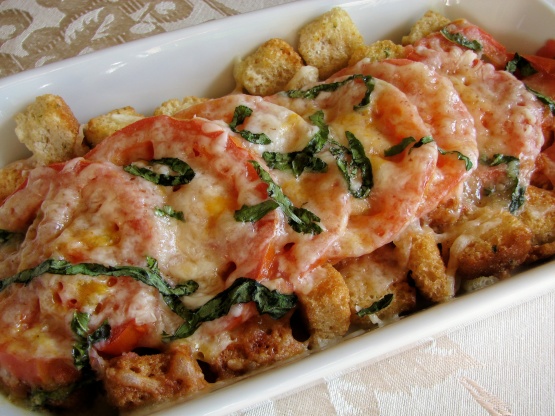 Here is a recipe to try with those delicious homegrown tomatoes. Provolone cheese is also good with this.

So I changed this recipe and instead of using croutons I used bacon as my base! The vinegar made the bacon soft (I like my bacon firm, but the other person eating this with me likes their bacon soft). But it was still tasty and I would definitely make it again perhaps with less vinegar. It was quite easy to make and I'll add this to my recipe list. :)
Line the bottom of a 9-inch pie or quiche pan with a single layer of the croutons.
Alternate 1/4-inch slices of tomato with mozzarella slices on top of the croutons.
Sprinkle with the red wine vinegar and then the dried basil.
Put in a microwave oven for 5-8 minutes or until the cheese has melted.
Enjoy!