JustJanS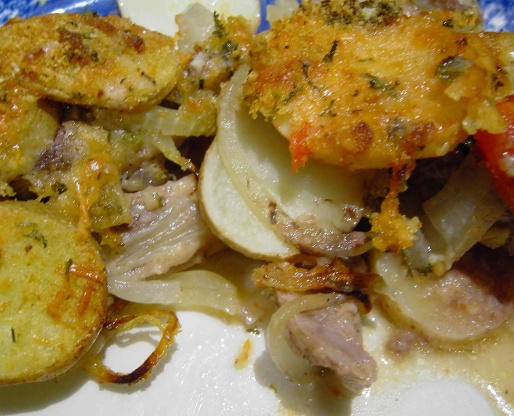 Easy lamb chops Italian style. This recipe is layered. First you will have a layer of potatoes and onions. Next you will have 3 layers of tomatoes and crumbs and 2 layers of chops. I use a deep casserole dish.

Delicious! Great to cook something different. Some people have lamb phobia. I think it's greeat once in a while, and this dish crystallizes the treat. I used chicken broth instead of water, as a few others did; seemed to make sense. I also mistakenly chopped the onions fine instead of slicing them fine. Still turned out delicious. I have found many fabulous recipes here. Time to become a paying member I think.
Preheat oven to 190°C (375°F).
Mix together breadcrumbs, parmesan, garlic and parsley. I use my processor, processing the crumbs first.
Brush bottom of casserole dish with oil. Place all of the potatoes in a layer and then top with all of the onions in a layer. Just cover this with equal parts wine and water. Season with salt and pepper to taste.
Next, layer with 1/3 tomatoes and 1/3 crumbs mixture. Layer with 6 chops.
Layer again with 1/3 tomatoes and 1/3 crumbs. Then a add the rest of the chops.
Layer with the last of tomatoes and crumbs. Sprinkle with olive oil.
Bake in oven for 1- 1 1/2 hours until chops are tender.