Prep 20 mins
Cook 30 mins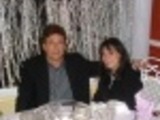 Tuna fish gets a French accent in this refreshing classic! (Make it even more refreshing with a nice glass of Chardonnay.)
12 ounces new potatoes, small red, scrubbed and quartered (about 6)
1 teaspoon salt
1 lb green beans, trimmed
1⁄2 cup nicoise olive
3 hard-cooked eggs, halved
1 large tomatoes, ripe, cored, cut into 8 wedges
1 (6 1/2 ounce) can tuna, packed in water, drained and flaked
2 tablespoons red wine vinegar
1⁄8 teaspoon salt
fresh ground pepper, to taste
2 teaspoons Dijon mustard
1⁄2 cup olive oil
1⁄4 cup fresh parsley, chopped
3 anchovy fillets (optional)
Directions
Boil potatoes in salted water to cover until tender, about 20 minutes.
Remove with slotted spoon and let cool.
Add beans to same water and boil until crisp-tender, about 7 minutes.
Drain and cool under cold running water.
Arrange potatoes, beans, olives, eggs, and tomato on large platter.
Spoon tuna into center.
Whisk vinegar, mustard, 1/8 t. salt, and pepper to taste in small bowl until blended.
Gradually pour in oil, whisking until emulsified.
Whisk in parsley, then drizzle vinaigrette over salad.
Top with anochovies, if desired.
Most Helpful
A lovely, authentic Nicoise salad, very easy and very yummy! You can add a hardboiled egg into the dressing (use a handheld blender to blend the mashed egg in as you pour in the oil) to make it more authentic. Delish!
This was perfect (without the Tuna!!...YUK to all canned fish, except anchovies...YUM). Even the next day the flavours had married and it was just gorgeous both times Thanx! (Great with a Kiwi Savvy Blanc as well!!)