A Perfect Eye of Round Roast Beef
Prep 5 mins
Cook 2 hrs 30 mins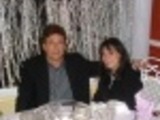 Without fail, my mother-in-law made an eye of round roast beef for Sunday dinner every week. While I tried to do so myself, I always had varying results. Sometimes, I overcooked it, and other times, it was too rare. I finally discovered this method that produced a perfect roast beef every time, that was medium, and even rarer in the center, and pleased all of our tastes. The key is to use an eye of round roast (or any well-rounded and even-shaped roast). The seasonings are up to you. I listed very basic seasonings, but I use different meat rubs at times, or whatever I'm in the mood for. While there are not enough pan drippings to make gravy, the juices make a lovely au jus to accompany the beef. This works for any size roast and couldn't be easier.
Directions
Preheat oven to 500 degrees. If desired, trim off excess fat from roast beef. Season with salt and pepper (and paprika, if desired). Rub meat with vegetable oil.
Place meat in roasting pan in preheated oven.
Roast beef for 5 minutes per pound. Then turn off oven. DO NOT OPEN OVEN FOR 2 HOURS! (For example, a 4-lb. roast would take 20 minutes to cook and then sit in the turned-off oven for 2 hours.).
Most Helpful
VERY good. My eye round was just 2.5 pounds and I cooked it at the 500F for 13 minutes. I would go maybe 10 or 11 minutes next time for such a small roast. Served it with the mustard Horse radish sauce. Good combo, I'll do it again. Also i served garlic mashed potatoes by Mark Bittman.

Well, the 5lb. 2oz. eye of round roast went in the oven for 30 minutes at 500 degrees. After the two hour wait, the oven temp and the internal temp of the meat were both about 153. A little more done than I would have liked, but still very tasty and juicy. I put three baking potatoes on each side of the roasting pan, directly on the oven rack. The potatoes were just a little overdone, but after making gravy out of the roasting pan drippings, I heard no complaints!

Next time, I'll use the remote probe thermometer and remove the roast when it hits my level of doneness. I liked the outer "crust" that the 500 degree start developed, so I'll use this method again. The flavor developed by the Maillard reaction was amazing! (And the paprika was a nice touch. I'll try Smoked Paprika next time.)
I made this today, using a 3 lb. Eye of Round. The ends weren't even close to being well done, but IMHO, when it comes to a fine piece of beef, anything past medium is a waste of good meat!!! The ends were medium, while the center was rare to medium rare....in other words, it was FANTASTIC!!! VERY juicy & flavorful!!! I used a special meat seasoning that I make & rubbed it all over with Olive Oil. Will DEFINATELY make this again!!! THANKS FOR SHARING!!!