A Perfect Eye of Round Roast Beef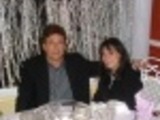 Without fail, my mother-in-law made an eye of round roast beef for Sunday dinner every week. While I tried to do so myself, I always had varying results. Sometimes, I overcooked it, and other times, it was too rare. I finally discovered this method that produced a perfect roast beef every time, that was medium, and even rarer in the center, and pleased all of our tastes. The key is to use an eye of round roast (or any well-rounded and even-shaped roast). The seasonings are up to you. I listed very basic seasonings, but I use different meat rubs at times, or whatever I'm in the mood for. While there are not enough pan drippings to make gravy, the juices make a lovely au jus to accompany the beef. This works for any size roast and couldn't be easier.
Directions
Preheat oven to 500 degrees. If desired, trim off excess fat from roast beef. Season with salt and pepper (and paprika, if desired). Rub meat with vegetable oil.
Place meat in roasting pan in preheated oven.
Roast beef for 5 minutes per pound. Then turn off oven. DO NOT OPEN OVEN FOR 2 HOURS! (For example, a 4-lb. roast would take 20 minutes to cook and then sit in the turned-off oven for 2 hours.).