A No-Nonsense Lemon Oregano Infused Olive Oil
momaphet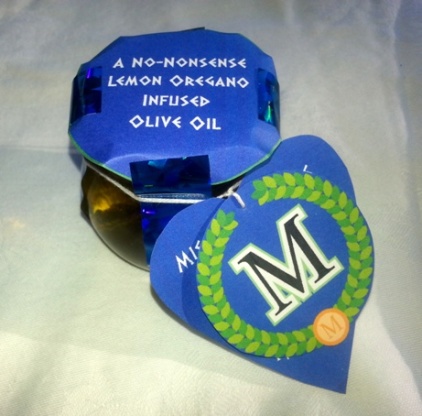 This is truly a no nonsense way to serve fresh seafood. It is packed with the flavors of the Mediterranean. Excellent drizzled over grilled salmon, halibut or swordfish.
Loved your recipe for infused olive oil. I did only make 1/2 for hubby and I, not knowing what to get. Wishing I would have made more. I did keep the same amount of garic, but halved all else . I'm thinking along the same lines as another reviewer, and using it while grilling chicken (I cannot eat seafood due to allergies). I simply put it into my oil vessel and enjoyed it drizzled on a salad. The only thing I want to say that may be negative... you do not clarify what "steeping" is. I know what it means, but younger kids don't have a clue. (It means cook it and let it sit for the remainder of the time without a fire under it). Also, it doesn't say to cover or leave uncovered. Excellent job on this recipe! Thanks for posting. (Made for ZWT9)
Using a vegetable peeler or zester, cut the zest off the lemon in strips taking care not to cut into the white pith.
In a small saucepan, over low heat, warm the olive oil, with garlic and strips of lemon zest for 10 minutes.
Remove from heat stir in oregano and allow oil to steep for 2 to 3 hours or overnight. Strain the oil into a clean jar, discarding zest, garlic and oregano. Store as any olive oil.
To use, lightly brush over seasoned fish, grill as usual and when serving lightly drizzle additional oil over fish and top with a generous squeeze of fresh lemon juice.