A Mountain Of Make-Ahead Mashed Potatoes
GaylaJ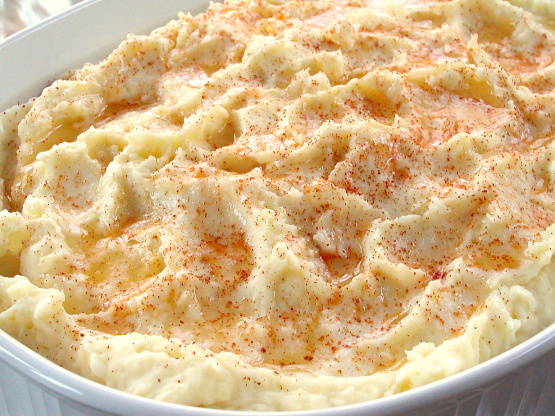 Creamy mashed potatoes for 12 lucky people. Make ahead if desired, or bake right away. Whichever you choose, this recipe is sure to be a hit at your next potluck.

Excellent!! These were delicious!! I used the leftovers for my High Rise Biscuit/Breadstick recipe which uses mashed potatoes . I wanted to see if the dried onion flakes effected them. It didn't. They were also delicious.I love the idea that you can make, refrigerate and then bake. I liked the consistency and didn't add any more milk as suggested by a reviewer because my family will load them up with gravy, butters anyway so the consistency was great! I would not change a thing!
Place potatoes in large pot, cover with water, and bring to a boil.
Reduce heat, cover, and cook for 20-25 minutes or until potatoes are tender.
Drain potatoes, place in large bowl, and mash with sour cream, cream cheese, onions, salt, and 4 tablespoons of butter, stirring until butter and cream cheese have melted.
Spread potatoes into greased 13 x 9 baking dish.
Melt remaining butter and drizzle over potatoes.
Sprinkle with paprika, cover, and refrigerate until ready to use (you can bake these right away, of course).
Refrigerated potatoes need to sit at room temperature for 30 minutes before baking.
Cover with tin foil and bake at 350 degrees for 40 minutes, then remove foil and bake for another 20 minutes.