A More Healthy Vegetable Medley
loof751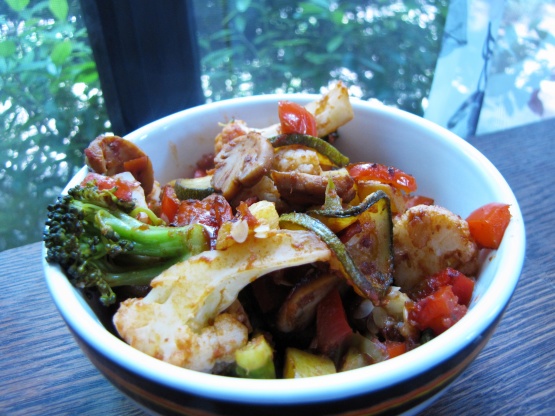 Maximum flavor, maximum color—the best of two worlds. From Prevention Healthy Cooking.

Great flavorful veggie dish! I don't care for onion so left it out, otherwise made as directed. Salsa and balsamic vinegar seemed like an odd combination to me but it really worked, adding great taste while still allowing the flavor of the veggies to shine through. Cut this to 2 servings and enjoyed for a great light lunch - thanks for sharing the recipe!
Heat a large skillet coated with cooking spray over medium heat.
Add the onion and bell pepper and cook for 2 minutes.
Add the eggplant, cauliflower, zucchini, and mushrooms and cook for 3 minutes.
Stir in the salsa, vinegar, oregano, basil, and red pepper.
Stir in the broccoli and cover.
Cook for 12 minutes, or until the vegetables are tender.
Season with additional oregano and basil, if desired.