A. M. Couscous – Ww 5 Pointsplus
Debbwl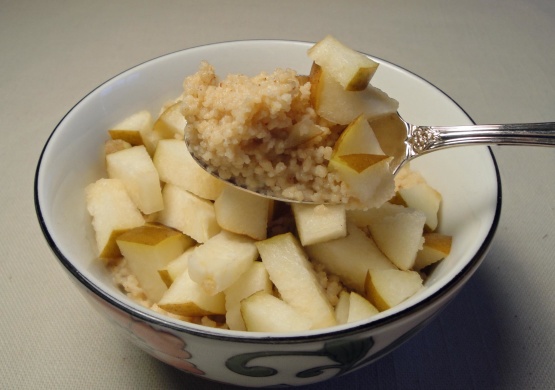 Based on a recipe from the January/February 2011 issue of WeightWatchers magazine. This is featured as a 10 minute breakfast for one.

Top Review by Debbwl
A delicious healthy breakfast that is both quick and easy. We really enjoyed the cinnamon pear combo. Made using a bosc pear which gave a little crunch. While this tasty breakfast is perfect as is may still add a little sweetener next time just because my family has a big sweet tooth. Thanks for the post.
In small saucepan bring milk and cinnamon just to a boil.
Stir in couscous.
Remove pan from heat; cover and allow to stand 5 minutes.
Sprinkle pear over top and serve.