gailanng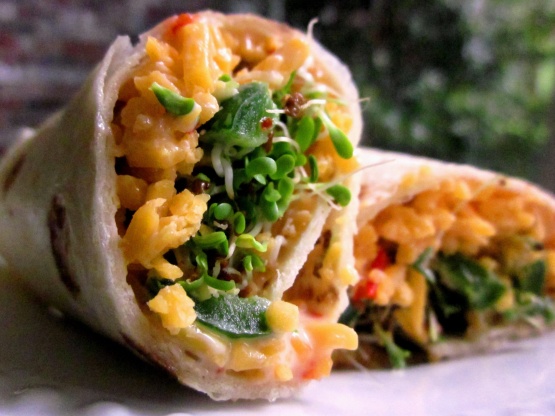 Filled with a unique and spicy filling of chopped vegetables, Cheddar cheese, and seasonings. The filling was invented by Lulu, or Uncle Lawrence, and put in the cookbook Wraps, by a family member. Enjoy!

This is a great wrap! Loved the mayo sauce; I added the full amount of cayenne (plus a little) and it was just right for us. I put this in a whole-grain wrap instead of a tortilla and my "sprouts of choice" were shredded field greens. Thanks for sharing a great recipe! Made for the Best of 2011 event, recommended by breezermom
Combine the mayonnaise, chili sauce, Worcestershire sauce, shery, chili powder, and cayenne if using, in a medium bowl.
Add the cheese, tomato, bell pepper, and onion. Stir until well incorported. Season to taste with sea salt.
Divide the cheese mixture evenly among the tortillas, top with the sprouts, and wrap.
Enjoy right away.
How to wrap:.
If tortilla is stiff, warm slightly(about 15 seconds) to make more flexible. Fold the right and left edges of the tortilla over the filling, toward the center. Fold the bottom edge of the tortilla toward the center and gently roll until the tortilla is completely wrapped around the filling.