A Little Sweet Banana Dessert
Rita1652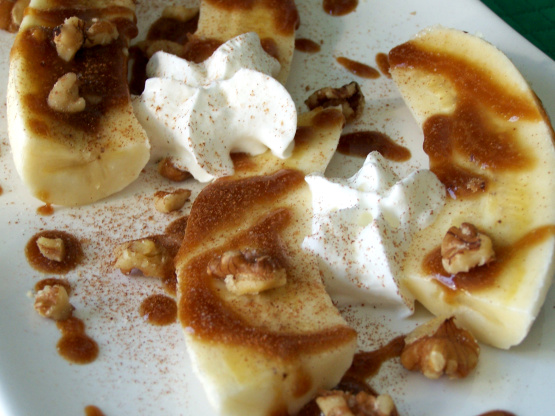 This is a great combination of flavors. A little sweet, a little salty, a little zingy. A real kid pleaser, husband pleaser, heck, it will please everyone. Prep time is for the sauce to cool completely.

This is sweet and simple! I did enjoy this a lot! The creativity was not there. An egg sauce (using 2 of the rsc ingredients) with garnishes of cinnamon and nuts (2 of the rsc ingredients) over a banana (1 of the rsc ingredients). The nuts could have been toasted and added to the sauce and cinnamon would have been more pronounced in the sauce. Great for ice cream. That being said this is a 5 star recipe for simplicity and taste. Thank you! Good luck in the contest!
Chop peanuts and walnuts. Set aside.
In a heavy saucepan, mix brown sugar, vinegar,and water. Crack egg into a small bowl and beat. Add egg to mixture.
Heat on low until low boil, stirring constantly until sauce is thickened. Let cool completely.
Peel each banana. Cut in half. Cut each half in half again.
Arrange on a serving plate.
Spoon cooled sauce over each banana. Sprinkle with chopped nuts.
Sprinkle with cinnamin.
For a fancier presentation, serve with whipped cream.