3 Reviews
Great Reuben variation! I liked making the coleslaw/sauerkraut myself. I added an extra handful of cabbage into the pot because it was cooking down so much it didn't look like enough for two sandwiches. When I put the sandwiches together I only ended up using about 2/3 of the meat and 1/2 the cheese called for. I shredded cheese off a block instead of using slices. Lastly, I just can't give up my usual Reuben sauce (mayo, chili sauce, horseradish) so we subbed that for the mayo/mustard suggested in your recipe. I think overall using less cheese and meat brought this "lighter" Reuben down even farther! Made for PRMR Tag Game.

This is a great variation on the classic Reuben sandwich. Instead of the tartness of sauerkraut, the sweet and tangy cole slaw mixture was a nice change. It is also really easy to make, and I will definitely be having this again (and without the guilt of a regular Reuben)! Thanks for posting, 2Bleu. Made for Please Review My Recipe Tag Game.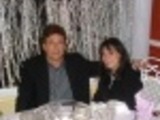 If you like Reubens this is a must to try! I can not say enough about this sandwich. Just thinking about it makes my mouth water. I made it as an open face, thus eliminating the calories etc of 1 slice of bread. Thanks for sharing your revision.
A Lighter Side of Cc's Oven-Grilled Reuben Sandwiches