A Lighter Side of Cc's Oven-Grilled Reuben Sandwiches
2Bleu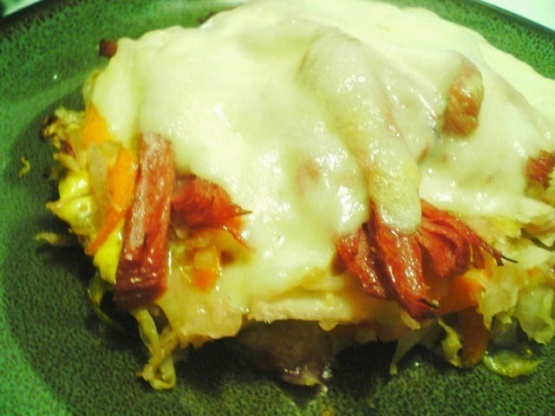 This is an awesome reuben that uses a unique cole slaw rather than saurkraut. This is a wonderful taste sensation for Reuben lovers. We think you will be as amazed as we were. We tagged Oven-Grilled Reuben Sandwiches in the 'Make it Healthier' game and did just that. We revised it to an 'open-faced' sandwich and brought down the calories from 837, the fat from 50.5, and the carbs down from 52g. Thanks Chef #382123 for such a great perk to an old favorite.

Top Review by Slatts
Great Reuben variation! I liked making the coleslaw/sauerkraut myself. I added an extra handful of cabbage into the pot because it was cooking down so much it didn't look like enough for two sandwiches. When I put the sandwiches together I only ended up using about 2/3 of the meat and 1/2 the cheese called for. I shredded cheese off a block instead of using slices. Lastly, I just can't give up my usual Reuben sauce (mayo, chili sauce, horseradish) so we subbed that for the mayo/mustard suggested in your recipe. I think overall using less cheese and meat brought this "lighter" Reuben down even farther! Made for PRMR Tag Game.
Adjust oven rack to middle position, place baking sheet on rack, and heat oven to 450 degrees.
In a small saucepan over medium heat, stir together vinegar and apple cider mix till dissolved. Add coleslaw, cover, and cook for 8-10 minutes, stirring occasionally, until coleslaw is tender.
Remove lid and simmer until liquid has evaporated, 1-2 minutes.
Line a baking sheet lined with parchment paper. Spray one side of each bread slice with non-stick cooking spray and turn over onto the parchment (so butter side is down).
Combine mayonnaise and mustard in small bowl. To each slice, spread mayo mixture, followed with 1 slice of cheese, the slaw, the corned beef, and then top with another slice of cheese. Bake until toasted, about 10 minutes.