A Kiwi Warrior Burger for the Barbie - Barbecue!
Debi9400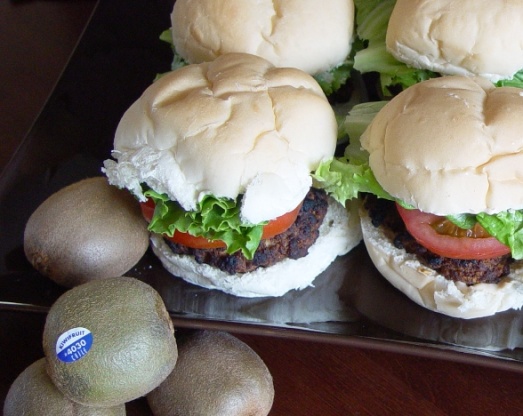 I have no idea why this burger recipe from New Zealand is called a warrior burger - maybe because you need to have a "fighting" appetite to eat this amazing burger or have an asbestos tongue?! A meal and a half in a bun - and with MORE than a bit of a kick as well! (I should have called this An All Blacks Burger maybe?!)

We really enjoyed the mixture of flavours in the patties but not so much the topping. The Worcestershire sauce was a little bit overpowering over the other flavours. Perhaps using less would be good. Also it was a little creamier than we prefer. I added in a Tbsp of dijon mustard to help cut that. Seemed to do the trick nicely. We also prefer a bit of a kick over sweetness in our foods so instead of using a sweet chili sauce, and chutneys, I used a hot ones. Three of us gave it a 3 over all and two gave it a 4. Everyone liked the meat though so rating it a solid 4
Combine all the patty ingredients and form into 6 patties of equal size with wet hands.
Make the Warrior topping by combining the whipped cream with the sour cream, stirring in the rest of the ingredients and mixing well. Keep refrigerated until needed.
Barbecue the patties on an oiled grill for about 5 minutes per side, over a moderate heat.
Assemble the burgers by stacking on freshly toasted buns, the patties, lettuce, sweet cucumber pickle, sliced tomatoes and a dollop of Warrior topping.