A Jolly Christmas Special Cosmo or Red Hot Lovers Cosmo
momaphet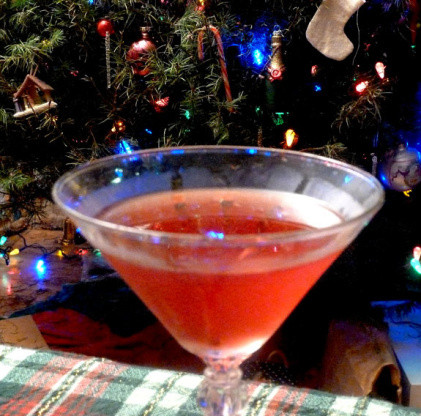 You pick the name! This wonderful drink we made for Christmas using Cranberry Liqueur by eebrag Cranberry Liqueur. I'm not sure if the stores have any cranberry Liqueur for sale if they do give it a try if you can't wait to make the liqueur by eebrag. This would be great for Valentines Days!
We all enjoyed this drink, though we thought the first one a bit sweet so added a little bit more cranberry concentrate and lime juice to the second. The whole cranberry liquour process was a bit time consuming to get to the end product and we prefered it at the cranberry vodka stage, so I think the next time around I would stop at that and just add some simple syrup to create this drink. Thanks Rita for another lovely cocktail. Made for "Let's P-A-R-T-Y! ~2010"
In a shaker fill with ingredients add ice and shake.
Pour into a martini glass.
Garnish with lime slice and fresh cranberries.