A is for Apple, C is for Carrot Salad
PaulaG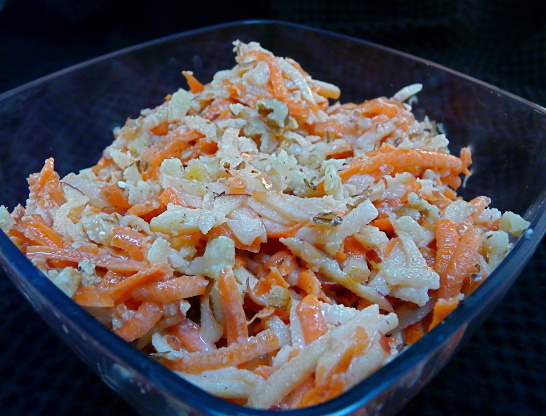 The fresh ginger root and cinnamon add both interest and warmth to this salad and please do not forget to lightly toast the walnuts as the toasting release oils that bring even more flavor. I use a food processer to do the grating which makes this come together very quickly.

As I was eating this salad I said to myself: "This would be really good with nuts-pistachios, walnuts, almonds, etc." Then I realized that the recipe called for nuts but I forgot to add them! Ooops! I used carrots from our CSA box and purple carrots from another local source. The big change was to not stir the dressing in with the vegetables rather to spoon it over the top. I think it made for a better presentation. Local honey, whole milk Nancy's yogurt, lime zest, apples from my sis in law's yard. Vegetables were arranged over a bed of baby arugula, too. Reviewed for Veg Tag/September. Thanks!
Toast walnuts in dry fry pan for about 3 minutes being careful not to over brown or burn. Chop and set aside.
In small bowl make dressing by mixing yogurt, lime juice, honey and cinnamon. Set aside.
Great carrot, apple and ginger in food processer; place in a bowl and toss with the yogurt dressing.
Top with toasted walnuts and enjoy.