A Homemade Bird Treat for Your Feather Friends
Rita1652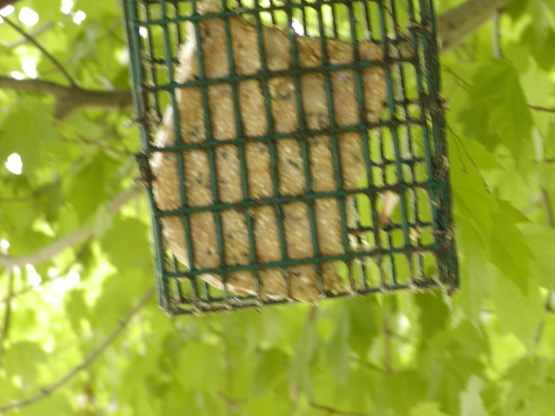 This is a great holiday gift for your feather friends. Will attract woodpeckers,chickadees,titmouse,nuthatches,mockingbirds. I've also added fresh or dried berries to the mixture. Make as much as you want just remember to keep it chilled because it will go rancid. Get the kids involved so they can make for gifts or a girl or boy scout project.
Very easy to make, added corn grits in place cracked corn, used hulled sunflower seeds toasted, Sesame seeds,peanuts, ground almonds,rasins, millet and other mixed bird seed. I did use alot more than 1/2 cup. My DH made a container for it out of small chicken wire. I am going to look for an onion bag. I even tasted it and it does taste good real peanut butter flavor. I am sure the birds will love it this winter. Thank you Rita for posting the recipe.
1⁄2 cup peanut butter
1⁄2 cup Crisco

2

cups yellow cornmeal, more if to sticky
1⁄2 cup flour
1⁄2 cup finely cracked dried whole corn
1⁄2 cup seeds (sunflower,milet,sesame,amaranth,even seeds from sweet & hot peppers) or 1⁄2 cup cracked nuts
In a food processor blend first 5 ingredients till all combined.
If needed add more cornmeal to make it workable.
Place it in a plastic bag and refrigerate till ready to use.
I like to put a string on pine cones then smear the mixture on it roll into seeds and hang for those that want it.
Or mix it (Seeds And mixture) all together and place into a suet cage or in an onion bag to be hung in a tree.
Just keep on making for the birds because they depend on it once you start.