A Fun and Frolic Kind of Avocado, Bacon, and Tomato Wrap Yippee!
gailanng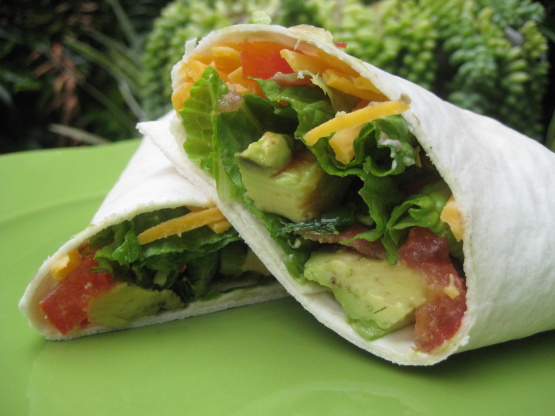 You can smell the bacon from the outside the house. Fall is approaching and the wind has picked up a little bit, and a nice breeze is blowing from the south, which in turn transfers the aroma of fresh bacon right out the window and into your nose. Dennis was wondering what was going on, after all, it was the middle of a fall afternoon. The door creaks open, Dennis slips off his boots, hangs up his hat on the pegged hanger, and rushes into the kitchen. I turned around to greet him with a smile, and laughing at his questioning look, I tilt my head and say, "It's bacon Dennis!" "I know, I know...." tests Dennis with a small voice. Dennis loves bacon. He will eat a couple of pieces a day, that would be, if I let him. I decided I would at least bring some healthfulness to him, and something tasty at the same time. One piece of bacon, wrapped in a tortilla, (or pita for that matter) with an abundance of lettuce, tomato, and special spritely green onion with a spot of cheese dotted on the top would be the answer to his dream.

Very good meld of flavors. Next time I think I would go with the Pita bread and larger tomato slices. I bought tortilla as I like wraps. but I also love bacon and tomato sandwiches of which this is reminiscent of. Because I was going to make a wrap I purchased roma tomatoes Ok with a wrap but not if I opt for the Pita Bread.

Update: I have made again this time I used zippy spread recipe#330072 I loved that combination. It gave the wrap just a bit more spice & I don't like a lot of heat.
Cook bacon your preferred method. Could be in microwave, iron skillet, or baked.
Warm tortilla's or pita in microwave for 10 seconds, or in oven wrapped in foil for 10 minutes at 350degrees.
As tortilla's (or pitas) are warmed, spread sour cream, or mayonnaise thinly on inner part.
Add cheese lightly.
Add lettuce, tomato, bacon (blotted from excess grease), green onion, and avocado (if using) nicely and roll carefully.
Add salt and pepper, and devour at one end.
Make sure your shoes are off, and you have a candle lit. It makes this extra special.
Try it and see.