A Different Tomato Salad Dressing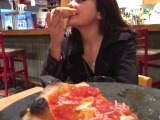 For an easy, tasty, and different twist on the tomato-mozzarella salad, try this dressing. The tastes of the Balsamic and Soy are so good together!
Directions
Whisk all ingredients together.
Toss with quartered tomatoes and fresh mozzarella cubes. Can also add celery and green onions.
Reviews
Most Helpful
Yes, the addition of the soy sauce is a little different -- but this is just AWESOME!!! I picked up some baby Heirloom tomatoes at the grocery store yesterday and used them. I also had some of the small fresh mozzarella balls and added them (I cut the tomatoes and mozarella balls in half -- just so they could absorb more of the dressing. I had some green onions that I added also. This is sooooo simple to put together and the flavor is outstanding. The dish looked so attractive -- all the various colors of the Heirlooms, the cheese and the green onion. The next time I make it (which will be very soon), I'm going to add some fresh basil. I can't wait to serve this at our next barbecue. Plus I didn't have any Tamari on hand, so I just used plain soy sauce. I want to use the Tamari the next time. Thank you for posting this.

I put the dressing over tomatoes and topped it with arugula. It was a good salad. The soy is definitely subtle.

Very good. I really enjoyed it, but think that next time I will lessen the balsamic vinegar to 2 Tbsp. instead of 3 as it overpowered the tomato in my opinion. All my guests liked it and requested the recipe. Thanks Trinkets....another keeper!!