A Different Spinach Salad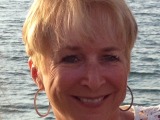 This salad combines fresh spinach with strawberries, bananas, walnuts and raspberry dressing. Not like the bacon grease dressing type spinach salad...an altogether different experience. Very tasty!
5 ounces Baby Spinach, washed & dried (fresh)
2 bananas, sliced
1 quart fresh strawberries, washed & halved
1 cup walnuts, chopped
raspberry vinaigrette dressing (I use Aunt Mid's All Natural)
Directions
Divide the spinach among four salad plates. Top with sliced bananas, strawberries and walnuts. Serve with dressing, to taste.
Most Helpful
If you like all of these ingredients, it is a tasty, refreshing salad! I enjoyed it for a late lunch and the dressing is a lovely compliment! Thanks for sharing a different, yet delicious variation on a favorite salad, Epi Curious!