teresas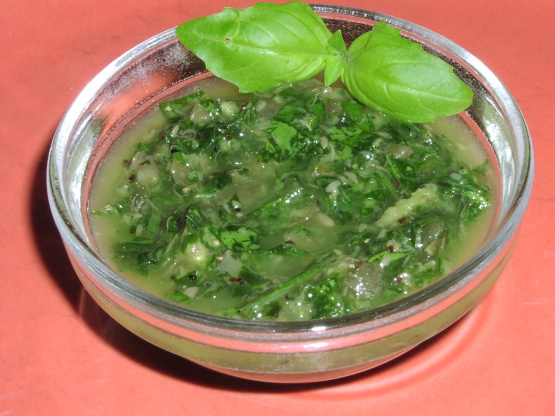 This is from "Herbs and Spices the Cook's Reference" by Jill Norman. I've never seen one like this! It sounds more like a flavored oil sauce. Serve with poached or baked fish, grilled meats, artichokes, cauliflower or broccoli.

Yum! We loved this! I did cut the recipe down to 2.5-3 servings and prepared it in my immersion blender. It whipped together with ease. I used basil because that is what I had on hand. I also was lucky and had a can of anchovy's because I have another recipe that needs them. :) This worked perfect for a sauce to put over our cooked salmon. Delicious! Thanks for posting.
Blend the herbs, garlic, capers, and anchovy fillets to a coarse paste. You can use a food processor, blender or immersion blender.
Scrape down the sides and slowly add oil and blend until it makes a smooth sauce.
Season to taste.