A Different Layered Salad
Cuistot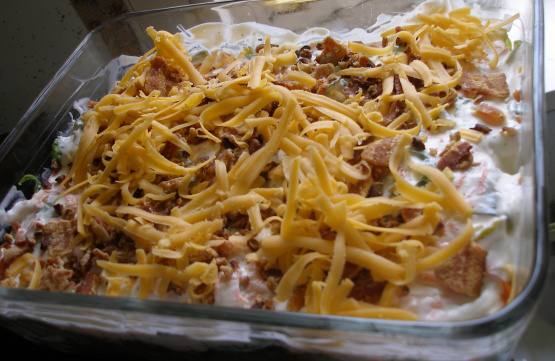 I grew up with a traditional layered salad with peas and bacon and cheese. This one is a little different and I like it!

Well I was not sure about this salad the first time I made it but everyone else loved it...So I decieded to give it another try and found that it was really good just different. I guess the combination of everything makes it very interesting. I just put it together like a normal seven layer salad with the dressing sealing the top. Will keep this one around for when I get bored with other salads.
DRESSING

1⁄2 cup light mayonnaise
1⁄2 cup light sour cream

1

tablespoon lemon juice

1

teaspoon lemon juice

2

garlic cloves, minced
1⁄4 teaspoon dry mustard
1⁄4 teaspoon salt
1⁄4 teaspoon pepper
1⁄4 teaspoon sugar

SALAD

2

cups Baby Spinach
3 1⁄2 cups roasted deli chicken, skin removed, torn in pieces

1

red pepper, cut in strips

4

large eggs, hard-boiled

1

small head iceberg lettuce, coarsely chopped

2

medium carrots, shredded
1⁄2 cup cheddar cheese, shredded
1⁄4 cup pecan pieces, toasted and coarsely chopped

3

slices bacon, fried crisp and coarsely crumbled
Use a 4-5 quart serving bowl, preferably clear glass so layers are visible.
Whisk all dressing ingredients in a small bowl until well combined. Refrigerate until ready to use.
Spread spinach over bottom of serving bowl.
Top with chicken.
Place a row of red pepper strips around the sides of the bowl and scatter remaining strips in the middle.
Place egg wedges against side of bowl, the rest in the middle.
Top with even layers of lettuce and carrots.
Spread dressing over top to the edges of bowl to seal.
Refrigerate two hours, or cover airtight and refrigerate overnight.
Just before serving sprinkle with cheese, pecans and bacon.
I prefer to toss it as well, but some people just spoon through the layers.