3 Reviews
This is cheesy, gooey goodness on a plate! It really didn't take any time to mix together, either. I made this exactly as posted, but used cayenne instead of chili powder (I like a little kick). It made more than enough filling, which I then used to top baked potatoes, which took them over the top! I can't wait to try the other suggested uses. Thanks for sharing this lovely treat! Made for Spring PAC 2013.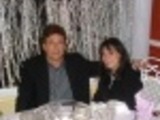 What a unique and delicious cheese sandwich. It's been a very cold Fall day and grilled cheese was calling for lunch. This was an excellent choice, so much flavor. I will certainly make this again. Made for PAC, Fall 2012.

What an awesome grilled cheese sandwich Chef Bronco. This was very tasty. I certainly could see, adding this to homemade macaroni for a spicy zesty treat. The grilled cheese filling was incredible. It had so much flavor going on...all the flavors blended perfectly together, creating a unique taste with each bite. Thank you so much for sharing this versatile recipe that I will make again.
A Different Grilled Cheese Sammich