Lab Chef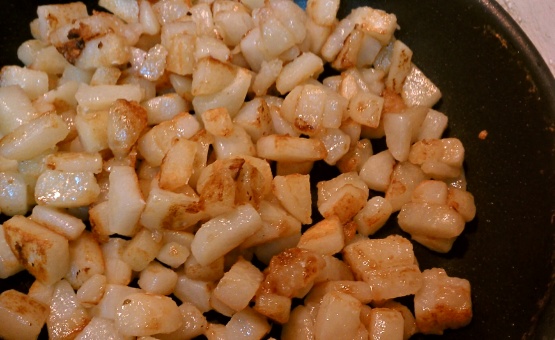 My family got tired of the normal fried potato recipes where the outside of the potato was crispy and the interior was still raw. I went to work changing my recipe and made a better potato. This is one of my families favorite dishes for breakfast or dinner. It's a really good as a side for pork chops
***Note*** a non-stick saute pan must be used in this recipe.
If using small potatoes then use two starchy potatoes like russet, if using a large "Idaho Russet," then use only one per serving.
Cut the potatoes into a medium dice and add to saute pan. Add the water enough to cover the potatoes. Add the salt, pepper, garlic, onion, red pepper, and oil to the pan.
Bring the pan to a boil over high heat, and let the water cook almost all the way out. When the water is almost cooked out the mixture will contain a lot of starch, which will stick. Turn the heat down to med-high and stir/toss until all the water is cooked out.
Once all the water is cooked out the potatoes should be mostly cooked and you can start to fry them. Keep the pan over med-high heat and add the butter. Make sure and stir /toss frequently. Keep cooking on for 10-15 minutes. If the potatoes are getting too brown for your liking, turn the pan down to medium.
Check for texture and seasoning, it may need more salt. potatoes can take a lot.
Serve as a side for breakfast or dinner.