Nimz1466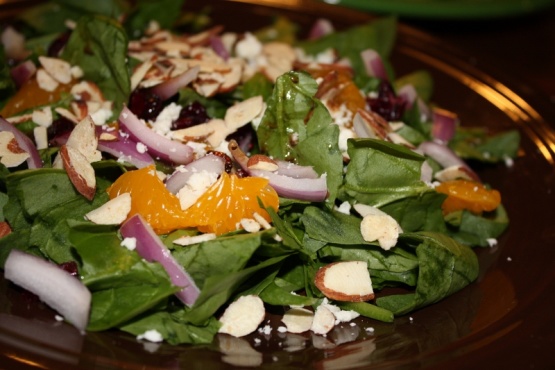 This is a beautiful salad indeed, with a scrumptious taste. A perfect blend of many flavors.

I hate to use such an "over-used" term, but this salad really is "to die for". I do make a few changes, but it's basically the same. I use Romaine lettuce, omit the onions, use honey roasted pecans or honey roasted cashews and sub blue cheese for the feta. If you sub blue cheese I would recommend that since it's such a strong cheese that you reduce the cheese to one-half cup. I buy a balsamic vinaigrette from O'Charley's restaurant (where I first had this wonderful salad), but I'm sure any balsamic vinaigrette would be fine. It really is an "explosion" of different tastes and has become our new favorite salad.
Simply put all ingredients except the nuts, into a large salad bowl.
Toss with vinaigrette.
Serve and enjoy!
I do not add the nuts to the salad, but serve them separately at the table to avoid their becoming less then crisp.