A-1 Pot Roast Chuck Steak
Derf2440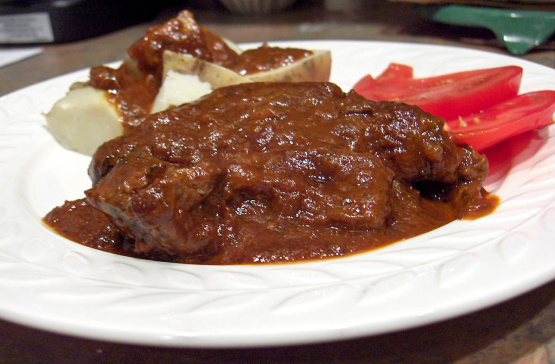 A great recipe for a chuck underblade steak that is usually inexpensive, but too often turns out tough. This one melts in your mouth and my family asks for it often. Good over mashed or small boiled potatoes, or rice.

This was a last minute attempt to fix Sunday dinner. So I went online to find a recipe for boneless chuck roast. I went through a few that had either a loooooong list of ingredients, took to long or didn't sound very appetizing. Then I found you. I had all the ingredients in the pantry, I was able to put it together in less than 20 minutes including the time it took to brown the meat. The hardest thing about this recipe was packing the 3 tbs of brown sugar. I added potatoes and baby carrots, some onions, green pepper and baby portabella mushrooms during the last hour of cooking. It was DELICIOUS. I will use this recipe each time I make chuck roast. Thank You very much.
In 12-inch Dutch oven, over medium-high heat in hot oil, cook chuck steak until well browned on both sides.
Meanwhile, in a cup, combine steak sauce, water, brown sugar, mustard and lemon juice until blended. Pour mixture over steak; heat to boiling.
Reduce heat to low; cover and simmer steak for 2 to 2 1/2 hours (or even a little more depending on the thickness of the steak), or until fork-tender, turning steak once.
This also comes out really tender with a "falling apart" texture if you cook it on low heat in a crockpot for 6-7 hours.
To serve, remove steak to a warm platter; garnish with parsley, if desired. With a spoon, skim fat from liquid and discard.
Pour sauce over steak or serve separately.