Hidemi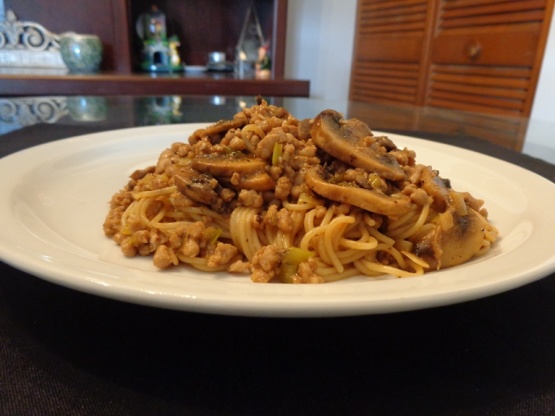 A.1. Original Sauce Recipe Contest Entry. Angel hair pasta, ground turkey, mushrooms and scallions with my special sauce, A.1. original sauce, hoisin sauce, soy sauce, black pepper, brown sugar and sesame seeds. And I used mayonnaise (not oil) to cook ingredients to bring out rich flavor and taste.
Mince garlic. Remove the root of scallion and discard it then chop scallion. Slice mushrooms thinly.
Cook pasta followed by the directions of the package.
In a small bowl, mix together A.1. original sauce, hoisin sauce, soy sauce, brown sugar, black pepper and sesame seeds.
In a hot work put mayonnaise and garlic. Cook over medium heat until fragrant. Add ground turkey and cook until ground turkey is cooked through. Add mushrooms and cook until mushrooms are tender. Add scallions and sauce. Reduce heat to medium-low heat.
Take 1/4 cup of pasta cooking water out of the saucepan and add to the work. Stir to combine.
When the pasta is cooked, drain in the colander and put into the work. Add salt and black pepper to taste and toss to coat.
Put the pasta onto each serving plate.