A-1 Bacon Jam N' Spread #A1
anchtoni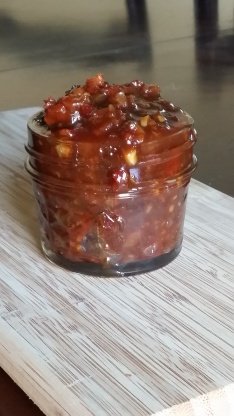 A.1. Original Sauce Recipe Contest Entry. A quick n' easy sweet n' spicy spread like jam that you can add to or top off almost anything...if you like bacon you'll love Bacon Jam n' spread!
Fry bacon in skillet, remove when done and set aside.
Leave 3 tablespoons bacon grease in skillet discard rest.
On medium heat add chopped onion and chopped garlic cloves to skillet.
Cook until onion is translucent.
Add crumbled bacon and all other ingredients.
Cook for about 20 minutes on medium heat until thickened, stir occasionally.