Kitty Z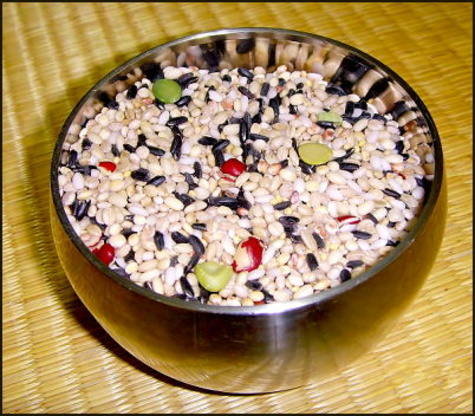 Koreans are encouraged to mix whole grains with their rice, both for the health benefits and to encourage farmers to grow crops other than rice. Generally one or two grains are added, but this is a great mix of nine grains & pulses. Usually we buy this pre-mixed at the market, this recipe is literally the ingredients list on the bag! Serving size is estimated based on 1/3 cup uncooked rice, which should yield about 1 cup cooked rice per person. NOTE: It's important to get hulled or split dried beans, otherwise they will need soaking before cooking.
Thoroughly combine all ingredients, and store in an airtight container.
To cook, wash gugokbap thoroughly, then cook in rice cooker according to manufacturer's directions, using the "brown rice" cycle.
Alternatively, cook on stovetop using your favorite method. Whole grains will take at least 45 minutes to one hour to cook.