7-UP Gelatin (Jello) Salad Delight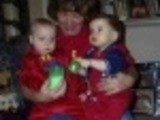 The kids love this one as well as the adults! A friend shared this one with me while I was living in Texas. Very tasty!!
Directions
Dissolve jello in 2 C boiling water.
Add marshmallows and stir until melted.
Add 7-Up.
When cool, add drained, crushed pineapple and bananas.
Pour into dish and let set until firm in refrigerator.
TOPPING Cook first four topping ingredients until thickened in a pan on top of stove.
Cool.
When cooled fold in whipped topping.
Spread over set jello mixture.
Reviews
Most Helpful
I've taken this Jello salad to parties twice: Once made with cherry Jello, once with orange Jello, and both times using creme soda. Instead of mashing the banana, I used very thin slices. A 9x13" glass dish is just right for this yummy recipe. Thanks!

This is a great recipe. Our family recipe is slightly different, using Lemon Jello instead, but I have made it with what ever kind of Jello I had at the time and it is still good. We also add grated cheese on the top which adds a wonderful little twist in the taste.
Absolutely the best jello salad and adults love it, too!<br/><br/>I have been making it for 45 years and everybody still asks for it.