HeathJ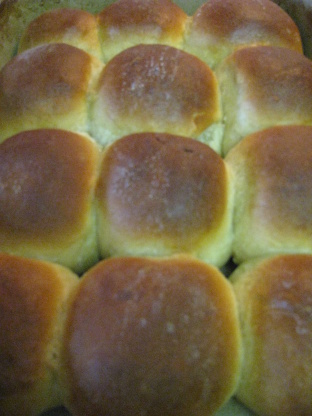 This is the first recipe I got that I even attempted to make homemade rolls. I got the recipe from a friend long ago. They are easy to make and very tasty without having to do alot of time-consuming and tiring kneading.

Top Review by HeathJ
Oh - thank you, thank you!!! I used to make this all the time, but lost the recipe in a series of transitions and have been searching for it.... I'm soooo happy to find it again (so is my hubby!) It's wonderful bread - I've used other recipes, after losing it, and none compare to me - I made it tonight and it was as wonderful as ever. It's so soft and the flavor is just the perfect balance - and I love the denser texture of it. And to boot, it's the easiest thing to make. I love it! Thank you again!
In a large bowl, mix 1 cup of flour, yeast, sugar, salt and powdered milk.
Now add the 1-1/2 cups"hot" water and the butter; stir until the butter is melted.
Add remaining 3 cups of flour, 1 cup at a time, and mix thoroughly (dough will be sticky).
Let stand, covered with a dish towel, for 20-30 mins in a warm place.
Turn dough out onto a floured surface.
Knead a few times, adding a little flour as needed until dough is no longer sticky.
Grease a 12 cup muffin pan.
Pinch pieces of dough and place a piece in each prepared muffin cup.
When pan is full, cover again and let sit 20-30 mins.
While rolls are sitting preheat oven to 400 degrees.
Place rolls in oven and bake 10 mins or until rolls are golden brown on top.
When roll are removed from oven brush with melted butter and serve hot.