gailanng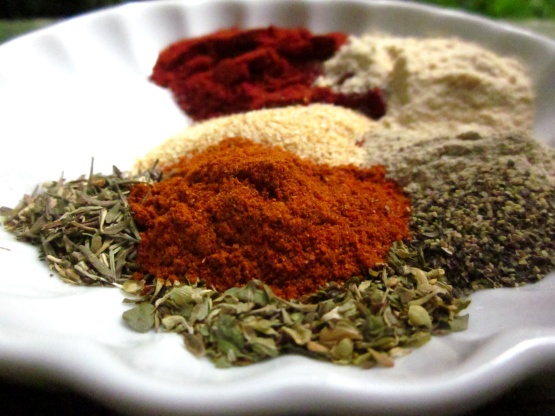 These are great dry rubs to try before you go out and buy the whole bottle and then find out you don't like them. Most of these ingredients are already in your cupboard. I keep all my old spice jars, wash, remove label and reuse for recipes like these. Dry rubs do not need standing time but can be applied several hours in advance if kept refrigerated. The flavors become more pronounced the longer the rub is on the meat. I prefer sprinkling on and then letting sit out at room temperature for about 15 min.

For the tag game "COOKING TAG MANIA 2013" I made the Cajun dry rub and used it on some chicken breasts which we made sandwiches with...delicious! I also made some oven fries and sprinkled some of the seasoning on them. I will be trying the lemon-rosemary rub next. Thank you for posting.
For each rub:.
Combine ingredients.
Store in covered container and keep in dry spot.
Can be sprinkled on meats and poultry just before cooking or several hours before.
Remember the longer time sprinkled on, the more intense the flavor.