chef2six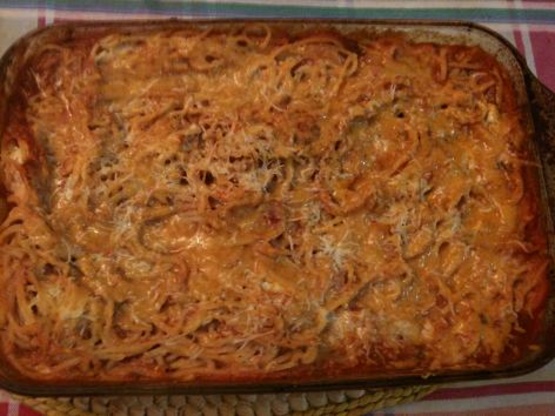 one of my family's favorite dinners, period. extremely easy, can also be tailored to what or how much of what you have. the difference is the ricotta. it gives it an amazing taste yet still doesnt taste like lasagne. try it.. with or without the mini meatballs!
1. mix all of meatball ingredients together, form small (approx 1.5") balls.
2. boil until done in 1" of water, turning once.set aside. preheat oven to 350 degrees.
3. prepare spaghetti as usual until almost done, drain.
4. spread the 8oz tomato sauce, garlic powder, and 16 oz of ricotta cheese into a 13 x 9 pan.
5. dump spaghetti, mix well.
6. add the meatballs, and jar of spaghetti sauce over top, and then the rest of the cheeses- mozzarella, cheddar, and parmesan.
7. place into oven uncovered, bake 30 minutes.