Ashley Cuoco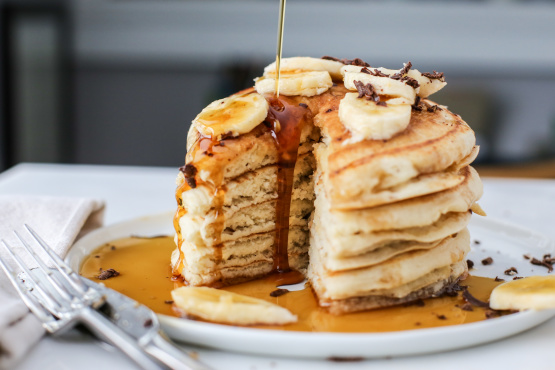 A cinch to make and tastes wonderful, if you like the taste of Baking Powder. My skeptical parents couldn't believe these were vegan. Try with white and whole wheat flour. Excellent with some maple syrup. I'm pretty sure I stumbled across this one on vegweb.com

These turned out as good or better than most vegan pancake recipes I've tried. I was worried about all that baking powder, but it wasn't detectable to me in the finished product. I used the measurements exactly as written, only I used spelt flour and chocolate soy milk. There were tears over who got the last pancake....so I should have made more! Thanks for sharing, I love the simplicity of this recipe and will be making again soon.
Set out all your ingredients.
Set a stove element with a pan to medium heat.
Combine the 4 dry ingredients (flour, sugar, baking powder -- two Tablespoons, not two Teaspoons as some have suggested, salt) in a bowl.
Add the soy milk and vegetable oil to your mixture.
Mix until smooth.
Now the pan should be ready for your batter, so spoon one pancakes' worth of the mixture into the pan.
Flip [carefully] when you see bubbles in the middle of the pancake, or if the edges are looking stiffened.
Repeat until the batter is gone, and try not to eat them all while you're cooking them.