5-Minute Individual Potato Gratins by Melissa D'arabian
Bonnie G 2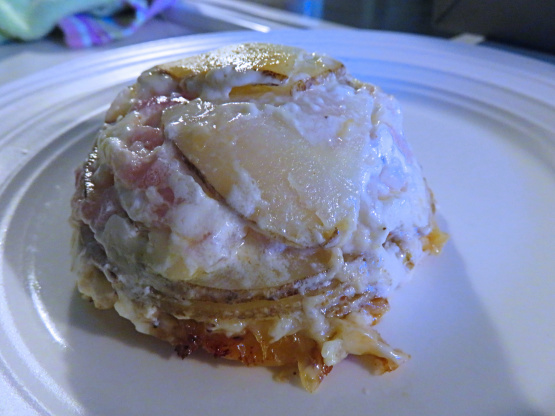 I saw Melissa make these on the Next Food Network Star show and wanted to try these for my family. Quicker baking time with the smaller portions. NOTE: I layered the potatoes, cheese, seasonings and onion several times and cooked it closer to an hour in my oven.

copy and pasted review from the Food Network website...putting it here for easy reference for me when I get ready to try this out!....."I've made this five or six times now and love it! The best variation I've tried so far is to dice finely one-half of a large Jalapeno and let it steep in the cream over the heat. Then strain the jalapeno flavored cream over the potatoes and sprinkle the Jalapeno bits on top. Be sure to do at least four layers of thinly sliced potatoes (two or three potatoes per layer and Mexican-blend cheese and overfill the tins slightly because it all compacts during cooking. I've also tried it with thyme-infused cream and other times I've used smoked cheddar, spicy jack, and gruyere cheeses. They were all great! These freeze and reheat nicely, by the way!"
Preheat oven to 375 degrees Fahrenheit.
Spray 8 muffin tins with vegetable spray.
Layer potato slices, cheese, and onions into each muffin cup.
Season with salt and pepper.
Top each gratin with 1 or 2 tablespoons of heavy cream.
Cover with foil.
Bake for 30 to 40 minutes, removing the foil halfway through cooking time. Invert gratins onto plate and serve.