5 Minute Frozen Yogurt With Fruit Variations
MsSally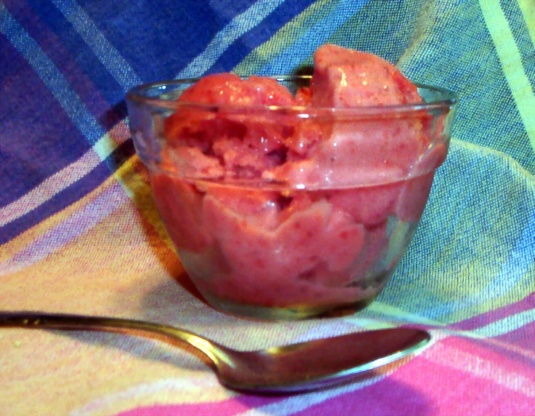 I haven't made this yet. This is one of those I found at another web site. It sounds so easy and yummy. I decided to post it because it was cluttering up my kitchen counter and I thought it had a better chance of being made if it were posted.

This was a super fast and yummy treat. I don't like super sweet foods, and this was perfect. I made it with frozen loganberries, which gave it a tangy zip. Our dinner guest raved and my little sister loved the hot pink color!
Allow the frozen fruit to stand at room temperature for 10 minutes.
Place the knife blade in food processor, add fruit and process until fruit resembles finely shaved ice, stopping to scrape down sides of container with rubber spatula.
With the processor running, add yogurt, sugar, lemon juice and almond extract; process until mixture is smooth and creamy.
May need to occasionally scrape down side of container.