5 Minute Chocolate Mug Cake
Tia J.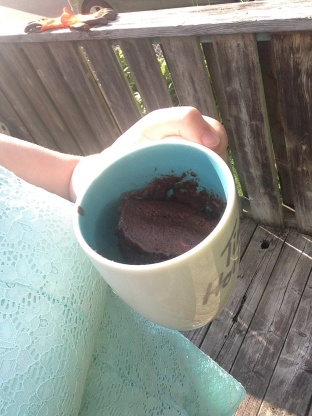 You need a large coffee mug. You can now have chocolate cake whenever you want. That's pretty scary but oh so yummy :-)

I've tried other microwave mug chocolate cake recipes and they have been pretty bad. I was sure I would never bother tying it again but I saw that the ingredients in this recipe included an egg and realized this could improve the texture and moisture a lot. I've made this recipe a few times now - all without the chocolate chips since I don't have any on hand. . The first time I made it as written. The cake was very dry and kind of tough. I think three minutes in the microwave was too long. So I made it again but cooked it only 2? minutes. The texture was better but it was still a little dry. So I made it again but cooked it only 2 minutes. Much better. The fourth time I added an extra half tbl of oil and cooked it just 2 minutes. This was pretty good. Moist and a good texture. Certainly not like from the oven cake but when a chocolate cake mood hits, it's quick to put together. The addition of chocolate chips would probably improve this even more. Btw... I realize that all microwaves are different and the size and shape of the mug would also affect how long it takes to cook but I would suggest starting with less time to begin with so you don't dry it out or overcook it.
Add dry ingredients to a large coffee mug, and mix well. Add the egg and mix thoroughly. Pour in the milk and oil and mix well. Add the chocolate chips (if using) and vanilla extract, and mix again.
Put your mug in the microwave and cook for 3 minutes at 1000 watts (high). The cake will rise over the top of the mug, but don't be alarmed! Allow to cool a little, and tip out onto a plate if desired.