4th of July Fried Chicken
teresas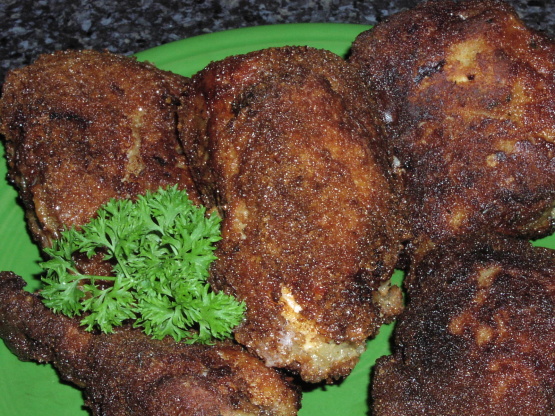 This easy fried chicken is perfect for a 4th of July picnic with potato salad and all the fixings. Recipe Source: Bon Appetit (July 1982).

Fried chicken is a much loved meal in this house, and we already have a top recipe for it..but as this uses breadcrumbs we thought that it might make a nice variation for us. We were right...the chicken is moist and tender and the crumb crisp and crunchy. A good chicken recipe-thanks ellie! Made for PRMR.
Rinse chicken pieces, pat dry and place in a shallow dish for marinating.
Pour buttermilk over chicken and marinate for 30 minutes, turning occasionally.
Combine flour, salt, sage, paprika and pepper in paper bag.
Add chicken and shake to cover.
Dip chicken in egg and roll in breadcrumbs.
Let stand for 15 minutes.
Pour oil into large skillet to a depth of 1 inch and heat to 375°F or until water spatters when sprinkled on oil.
Add chicken legs and thighs first.
Fry until browned about 10-12 minutes before adding remaining pieces, frying another 10 minutes or until brown.
Drain chicken on paper towels before serving.