Nif_H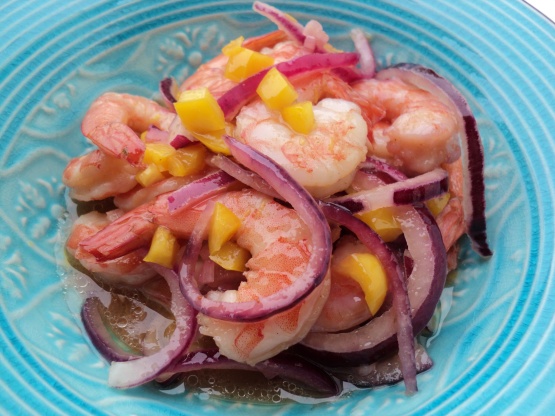 I an lucky and have a shrimp connection....I get my shrimp right off the boat! I am always looking for an even better way to serve shrimp. This is a refreshing recipe for a shrimp appetizer or a summer salad. Marinate for the full 48 hours for the best taste. Great to use at a party, because the shrimp are already peeled....no need to clean up all those shells!

Wow! This was a hit! I made only a pound of shrimp, but honestly wished I had made more as the tray was emptied quickly. Like others I worried about the long marinating time, but the shrimp wasn't mushy at all even though I peeled the shrimp. The recipe is a keeper and catches the eye on a buffet table. Thank you for sharing the recipe!
Bring 7 1/2 cups water to a rolling boil. Add the shrimp, and cook 2 to 3 minutes or until shrimp turn pink. Do not overcook. Drain and rinse with cold water. Ice the shrimp to cool, then peel and if desired, devein.
.Layer the shrimp, red onion slices and bell pepper slices in an airtight container.
Whisk together vegetable oil and next 9 ingredients; pour over shrimp. Cover and chill 48 hours, stirring occasionally.
Stir in 1/2 cup chopped basil 1 hour before serving.