Tinkerbell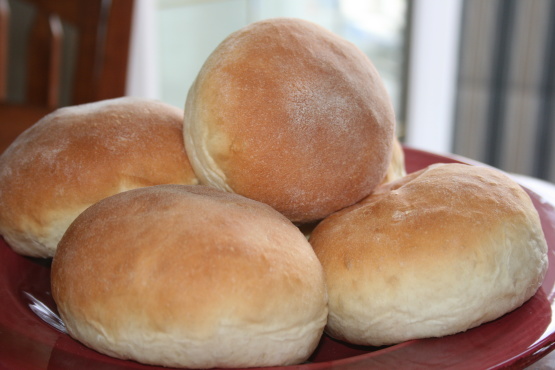 Homemade hamburger rolls with only a 10 minute rising time. These are really good. Recipe from Taste of Home.

I have used this recipe countless times and my family loves it! I cut the oil back to 3 tablespoons, it makes the texture lighter. When I use it for hamburger rolls I decrease the sugar to 3 Tablespoons as well. I also found, depending on the weather, that the dough must sit longer than the recommended 10 minutes. Sometimes it takes longer. If you are a first time baker of bread, let the rolls almost double before putting them in the oven. For those of you who have tried this recipe and found it to be too heavy try cutting back the oil and letting the dough rise a little more before baking. I have also substituted 1 cup of whole wheat flour for white flour and they turn out wonderful. I have also substituted 1/2 cup of flour and used a multi-grain flour. This is my new dough recipe for sticky buns. Now I can whip up sticky buns and they will be done in an hour from start to finish. It takes about 20-30 minutes for the dough to rise since I roll it with a rolling pin. When I make sticky buns I use the recommend amount of sugar in the dough. Happy Baking!
In a mixing bowl, dissolve yeast in warm water.
Add oil and sugar and let stand for 5 minutes.
Add the egg, salt and enough flour to form a soft dough.
Turn onto a floured surface and knead until smooth and elastic, about 3 to 5 minutes.
Do not let rise.
Divide into 12 pieces and shape each into a ball.
Place 3" apart on greased baking sheets.
Cover and let rest for 10 minutes.
Bake at 425° for 8 to 12 minutes or until golden brown.
Remove from pans to wire rack to cool.