awalde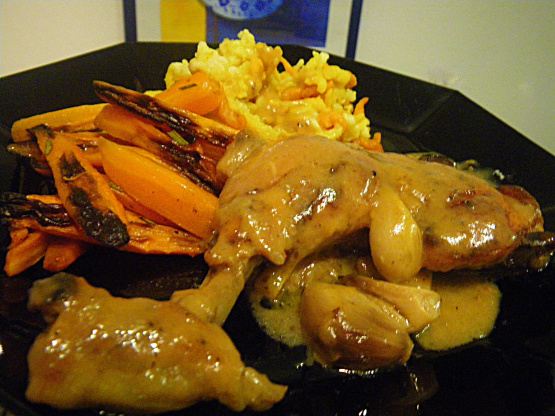 I got this recipe from the local newspaper and the chicken is so moist and full of sweet garlic flavor. I always serve with a loaf of french bread and spread the garlic on the bread like butter. It is to die for!

Top Review by awalde
This recipe is a wonder!
I prepared this dish for 8 people and for this reason I doubled the quantities and I cooked this in the oven.
I performed the steps 4-6 in ones with little grill.
I added all the ingredients together (previous mixed in a bowl) excepting the cream. I cooked covered at 140°C until my guest came. 10 Minutes before serving I added the cream and a half cup more wine and I increased the heat to 180°C (cooking covered).
Instead of normal flour I used roasted flour that I prepare in advance in a pan.
This was really delicious and juicy. I will do this again, for sure!
Boil garlic cloves for 60 seconds. Drain & peel.
Season chicken liberally with salt and pepper.
Heat butter and olive oil in large pan over med-high heat.
Saute chicken skin side down first until brown, about 4 minute Turn over with tongs (do not pierce skin) and brown on other side, another 4-5 minute.
When chicken is brown, transfer to plate.
Add garlic cloves to pan and saute 5-10 minute until evenly browned.
Add wine and 2 tbs. cognac, bring to a simmer and scrape bottom of pan.
Return chicken to pan and spirinkle with thyme.
Cover and simmer about 30 minute or until chicken is cooked through.
Remove chicken to platter and keep warm.
In a small bowl, whisk together flour and 1/2 cup sauce from pan then whisk it back into pan.
Add cream and last tbs. of cognac. Cook 3 minute and add Salt and pepper to taste.
Pour sauce and garlic over chicken and serve hot.