4 Ingredient Easy Chocolate Fudge
Ambervim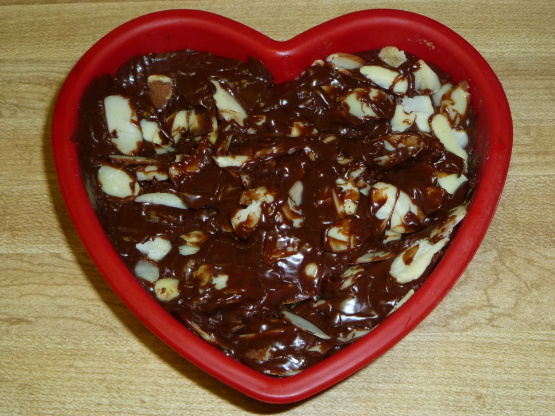 Very simple fudge recipe. No candy thermometer is necessary! Great for beginner candy makers.

How simple is this?This is a great little recipe,that really fits the bill when you need something chocolatey.I used pecans in mine (I seem to have loads of them at the moment!) and it was just great!! I made some for my son's nursery bake sale,and was besieged by mothers and nursery teachers for the recipe.We loved it!! Made for 1-2-3 Hit Wonders.
Line an 8 or 9-inch square baking pan with foil or parchment paper.
Conventional method: In a double boiler, melt chips and milk. Stir until smooth. Add nuts and vanilla.
Microwave method: Melt chocolate chips and milk on 50 percent power, 3 to 5 minutes. Stirring twice while microwaving and once at the end until smooth. Stir in nuts and vanilla.
Pour into prepared pan and chill until set.