twissis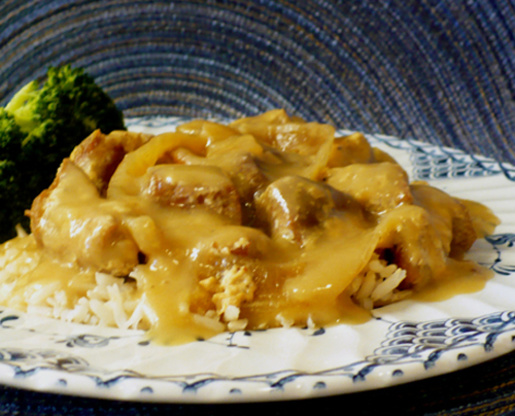 Posting this recipe from Canadian Chef Ricardo's cookbook "Meals for Every Occassion" that was sent to me from my cookbook swap partner. Thankyou Katsen :) I haven't tried this recipe as yet, but thought it sounded interesting and the photo in the cookbbook looked amazing

I was trying to replicate a recipe that a chef I worked with used to make. I was glad to find this recipe as a guide. I followed it pretty much except that i used a few shallots instead of onions. also, in keeping with the chef's recipe, I didn't strain the gravy. I mixed it all up together, added a bit of tapioca starch (gluten free) to thicken it and served it with the pork. Delicious!! It wasn't exactly the same as the chef's but a good start. I think maybe a bay leaf and a few more herbs and spices might do it! We loved this, so easy and so tasty! Served it with corn bread, mashed potatoes and cole slaw. yum! thanks!
Preheat your oven to 350°F / 180°C Place the oven rack in the middle position.
In a large ovenprrof saucepan, brown the pork roast in the butter and then season with salt and pepper.
Add the milk and bring to the boil. Add the vegetables and nutmeg.
Cover the saucepan and transfer to the oven for 2 1/2 hours. Dont worry if the milk looks like its curdling at first; you will be straining the liquid through a sieve. (I'm guessing at this point if you dont have a saucepan that can be placed straight into the oven that you could transfer the contents to a lidded casserole or baking dish.).
Uncover and then continue cooking until the sauce is reduced by a little less than half. About 1 1/2 hours. Turn the pork shoulder every 20 minutes.
Remove the meat and set aside.
Strain the braising liquid. Whisk the sauce and adjust the seasoning.
Serve the pork on a large platter. Suggested to serve with mashed sweet potatoes to enjoy with the gravy and a green vege.